Environment´s information
Capital of the Ribera of Douro of Soria, the Natural Path of Douro is one of the offers there are to the hikers. Following the CN-122 to the West there are arcade Romanesque galleries in Rejas de San Esteban and a tower in Langa de Duero which has also a medieval bridge and a gothic parish. Further away is the region of Burgos that the visit to the monastery of "La Vid" (The Vine) is obligated. Also from Langa de Duero, following the Cid´s Path, the traveller can go to Castillejo de Robledo which has a good wine cellar, some old wineries and an awesome Romanesque in its parish, as well as a castle. If we take the CN-122 and we decide to go to the East, 10 minutes away is the archeological site of Uxama and under is Osma with its bridge and a medieval castle. Next to it is the Historic-Artistic Complex of Burgo de Osma, villa with excellent gastronomy, impotent cathedral, park next to Ucero, arcade streets and good bakery. From El Burgo the traveller can go to the North to see the Natural Park of the river Lobos and to the South, up to the caliphal castle of Gormaz.
 
San Esteban de Gormaz
The old part of this town is historic and artistic set, beginning in the Gothic parish which has few meters of remains of the medieval wall. Two churches are raised in the North and East extremes, both Romanesque and with arcade galleries being the oldest one: San Miguel, the capitals are carved with many figures with Islamic style. Medieval bridge above the Duero. Roman funerary steles in the High Street. Rock cellars on the castle hill, which keep an important canvas, and a modern cellar with wine of Designation of Origin Ribera del Duero. Good gastronomy. And in the suburbs there are the Thematic Park of the Romanesque of Castile and Leon and the ethnographic center Mill of the Eyes. A spring Fairy of Machine and of the Wine, as well as medieval market is other of its attractions.
Tours
* Our Lady of Rivero.

* Church of San Miguel.

* The Castle of San Esteban de Gormaz.

* The wine cellars.

* The Arch of the Square.

* The Medieval Bridgel.

* The Rambla.

* Eco Museum Mill of the Eyes.

* Themed Park of the Romanesque of Castilla y León.

* Wine cellars Gormaz.

* El Burgo de Osma.

* The Ruines of Uxama.

* Navapalos.

* Caracena.

* The Fortress of Gormaz.

* Castle of Ucero.

* Canyon of River Lobos.

* La Galiana.

* San Leonardo de Yagüe.

* Ruines of Tiermes.

* The Mountain Chain Pela.

* Catalañazor.

* The Oak-tree of Catalañazor.

* La Fuentona.

* Berlanga de Duero.

* The Hermitage of San Baudelio.

* Rello.

* The Black Lagoom.

* The Peaks of Urbión.
Activities
Bike Routes, Hiking, Canoeing, Environmental Interpretation, Ecotourism, Wildlife watching, skiing, etc ...
WHERE TO GO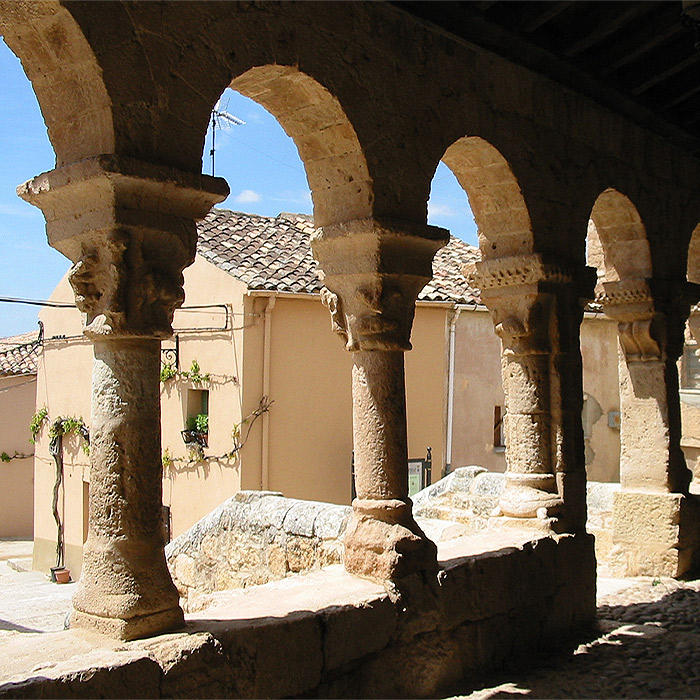 San Esteban de Gormaz
Conjunto Histórico-Artístico en el que destacan sus dos iglesias románicas porticadas. Sobre el cerro quedan restos del castillo, y en su ladera hay bodegas tradicionales. Puente medieval. Véase el Pa...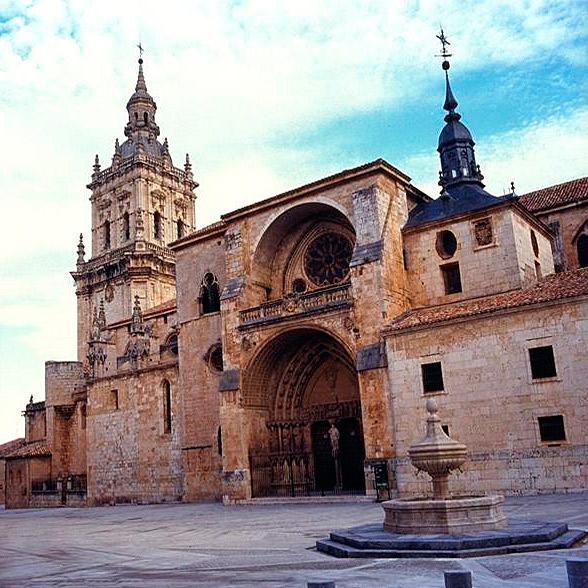 Catedral del Burgo de Osma
Catedral gótica con influencias cistercienses con torre barroca y añadidos neoclásicos en su monumental Capilla Palafox. Restos románicos interesantes. Construida a partir de 1231. Dos fachadas con mú...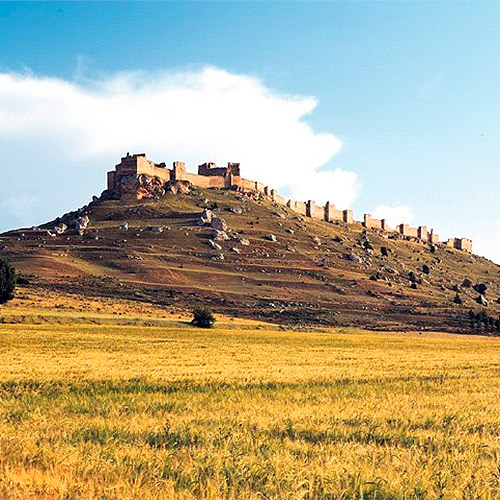 Castillo de Gormaz
Monumento Nacional desde 1931. El castillo más grande de Europa. Califal, del siglo X, época de Almanzor. El Duero gira en torno al espolón rocoso que lo asienta. El Cid fue su alcaide y caído en desg...
UPCOMING EVENTS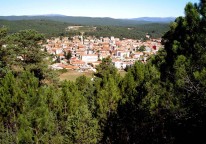 San Esteban en Navaleno
En Navaleno, 26 de diciembre
Con hoguera nocturna en la Plaza Mayor, chorizos asados regados con vino para vecinos y visitantes.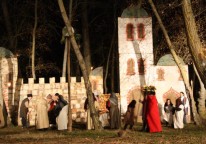 Belén Viviente Sanestebeño
En San Esteban de Gormaz, 28 de diciembre
San Esteban celebra su belén viviente en el Sotillo recreando el día del Nacimiento de Jesús a las ocho de la tarde. En Soto hacen la representación durante la misa.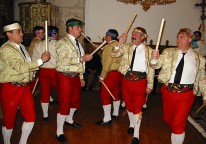 San Ildefonso
En Casarejos, del 23 al 24 de enero de 2019
En Casarejos se festeja a San Ildefonso con unas danzas de paloteo en el interior de la parroquia, vistiendo los danzantes con trajes goyescos. Es común en varios pueblos del antiguo marquesado de San...